If you're a volume recruiter, you know that it's tough out there at the moment. The number of positions that need filling in your industry likely outpace the number of job seekers, and that makes for a pretty competitive market. So how do you stand out and bring in the best candidates?
While there are a lot of tactical and logistical things you can do to improve your recruitment efforts and optimize your processes, one of the most important things you can do in volume hiring is invest in building a strong employer brand. Not only will this help create consistency in your messaging and outreach, it will also ensure you have a recognizable culture and way of showing up that appeals to both current and potential employees.
In this piece, we're sharing seven tips for building a stronger employer brand, with insights from Una Karanovic, Director of People & Partner Solutions at Hudson RPO. Scroll on for the details.
What is an employer brand?
Like your consumer brand represents what your company is about and how it serves its customers, your employer brand should depict what it means to work at your company. Done effectively, an employer brand showcases corporate values — and how they're lived within the organization — and is framed by consistent messaging, design choices, and brand guidelines.
At the heart of most employer brands is an employer value proposition (EVP). Your EVP should capture what makes you unique as an employer, while also giving candidates a sense of what they receive from the company. If you look at the LinkedIn careers page, for example, their EVP stems around the tagline "Transform the way the world works," which ties into their corporate mission. Our partners at PeopleScout, meanwhile, hint at how their employees contribute to people finding jobs with the line "Putting the world to work."
It's important to remember that your employer brand shouldn't just live on the surface. Your employees should be living that brand promise in each of their day-to-day experiences. As such, building and embodying the employer brand isn't just the role of recruiters — the rest of the HR team, and all the company leaders, should also be involved.
Why is it important for volume hiring?
There's a reason we talk about employer branding so much on our blog, especially when it comes to improving volume hiring efforts. A strong employer brand can help reduce time to fill, lower the chance of interview no-shows, support you in adding depth to your talent pipeline, and optimize your offer acceptance rate. Each of these components can go a long way to making volume hiring efforts more efficient and effective.
At the end of the day, candidates are much more likely to apply for jobs at and accept offers from places that they recognize and trust — and a well-constructed employer brand can facilitate that.
Withe

makes high volume hiring simple

with virtual hiring events and on-demand video interviews
7 ways to build a stronger employer brand for volume hiring
What follows are seven strategies that you can incorporate into your employer brand building efforts.
1. Establish your brand positioning
Much like a corporate branding exercise, you'll need to spend time crafting the foundational pieces that sit behind your employer brand. This could include:
EVP pillars that cover three or four distinct components of what your brand stands for as an employer
Core messaging that can be used consistently across your careers page, social media, and job postings
Brand elements that differentiate your employer brand from the corporate branding — without going too far
In addition, you should also consider what you want your employees and candidates to think, feel, and do in response to your brand. For this exercise, it could be worth engaging with current employees to get a sense of where your brand is currently and where it could be.
2. Lead with your values
"Values and company culture are what sets companies apart," says Karanovic. "I would say having a very transparent process, including a prominent page on the website that outlines culture and the company structure, is important."
Once you have a clearly defined set of values and messaging, share them everywhere and often. Whether it's on social media, your website, or on job boards, there should be no mistaking what your EVP is. Make it easy for candidates to find out about your company's values and use messaging that's recognizable across different platforms.
3. Share your human story
When it comes to volume hiring, it's easy for recruiters to fall into the trap of focusing solely on the number of roles that need filling and the number of candidates to attract, review, and interview. To us, there's an opportunity for recruiters at large brands to lead with the stories that sit behind the company — whether that's an origin story or their own experiences working at the company.
Karanovic agrees: "If we want candidates to be passionate about our mission and values, they have to have a solid understanding of who we are and how we got to be the successful organization that we are today."
4. Engage your existing employees
Your existing employees can be your best ambassadors when it comes to promoting your employer brand. Give them the tools and opportunities to share their stories from working at your company with their own network. This will both help increase brand recognition and encourage people to apply for open positions when and if they're available.
5. Craft a culture that's appealing to others
Your corporate culture is going to be a big component of your employer brand, and you should talk about it often. Share the positive experiences that employees have at your locations and give candidates a taste of what working for your company could look like. For Karanovic, this could mean highlighting the trust that exists between team members, how decisions are made as a team, and the relationships that the CEO has with employees.
6. Embed your employer brand into every interaction
An employer brand is most successful when it's associated with positive experiences. This means that your volume hiring process needs to deliver optimal candidate experiences that reflect back on the employer brand. Not only will this help you build stronger relationships with your candidates, it will also encourage them to share your employer brand with other high-quality talent.
7. Stand out from the crowd
Today, more than ever, volume hiring teams need to stand out against the competition. Get creative in how you and your employees show up as a cohesive employer brand. According to Karanovic, this could start with something "as simple as everyone having the same banner on LinkedIn." It may seem small, but it shows camaraderie across the team. Getting employees to share their stories in some capacity is also helpful here, says Koranovic: "when trying to share how your company is great, what speaks more than happy employees sharing their story to the world?"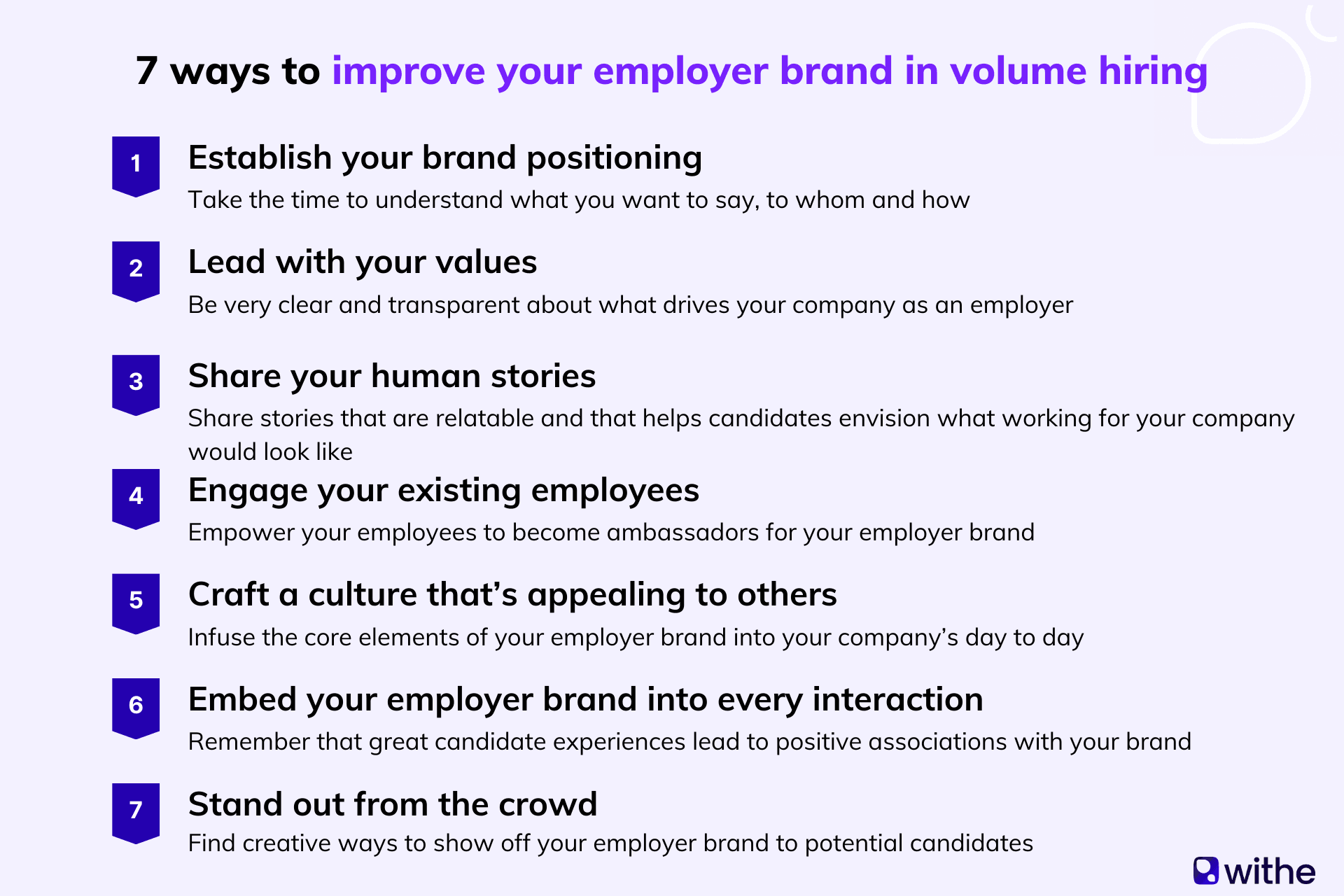 Delight your candidates with your employer brand
As a recruiter, your employer brand gives you a great opportunity to make a fantastic first impression, and then consistently improve on that impression throughout the volume hiring process. In today's landscape, the volume recruiters that are going to do the best are the ones with a strong employer brand behind them. It may take up-front effort to get right, but it will pay off in spades once it's set up.
At Withe, we're helping high-volume recruiters improve the candidate experience and contribute to positive employer brand experiences. Learn more about it on our homepage.