Ask any hospitality leader, and they'll tell you that hiring has become one of their biggest challenges.
For many hospitality employees, the COVID-19 pandemic (and the large amount of resulting furloughs and lay-offs that happened in the space) offered an opportunity for reflection. Since then, many hospitality workers have decided to pursue other career paths and, according to a McKinsey survey about hospitality recruitment, 40% have been thinking about leaving their jobs. As a result, attracting candidates, let alone retaining existing employees, is proving to be a challenge.
Leaders in the hospitality sector are known for doing everything they can to deliver experiences that delight their guests and encourage them to come back — but now the same has to be true for candidates. Candidates are 38% more likely to accept a job offer if they are satisfied with the application process, so the return on investment from developing a positive candidate experience is high.
What follows are five best practices for optimizing the candidate experience in the hospitality sector.
1. Create a strong digital presence
Your candidates are going to be looking for job opportunities across a number of different platforms, from LinkedIn to Indeed and Glassdoor. And if they find a role they're interested in, they'll probably look up your brand on Google and social media. This means that you need to have a consistent employer brand that spans across channels.
Here's what this can look like in practice:
A consistent approach to how job postings are written, including a blurb on what your company does and the role it has in the industry
An engaging and appealing visual brand that shows up across channels
A career site with detailed information, frequently asked questions, employee testimonials, and examples of employee events.
Leveraging social media channels to promote open positions, new hires, and company HR awards.
Showing up consistently will help you meet candidates where they are and allow them to build trust in your messaging
2. Keep things simple — and optimized for mobile
Today, just over 60% of job candidates will quit online job applications before they finish because they find them long and difficult to navigate. People don't have a lot of time, especially if they already have a job and have family commitments, and their attention span is limited. As such, to keep candidates engaged, you need to make the application process as straightforward as possible.
Keep the application process short. For example, you can avoid duplicating efforts by not making applicants upload a resume only to have them fill out a form with their job history. Limit your list of questions to the must haves and only introduce additional components like skill tests if they're imperative for the role.
Your digital applications should also be optimized for mobile. At least 75% of people use their mobile phones as part of their job search. This means you have an opportunity to capture candidates when they're on their phone. If your application system doesn't work on mobile, then you risk the candidate dropping off and not coming back to the application on another device.
3. Communicate clearly, transparently, and proactively
One of the best things you can do to improve the candidate experience is communicate well, and often. Start with the job description: this is where you can be articulate about the expectations for the role, be transparent about the salary, and shed light on what the career path for this role looks like. This gives the candidate the details they need to make an informed decision around whether they want to apply or not.
Once they've applied, communication is also key. Send an automated email after the application to let them know when they can expect a response and what the next steps might be. At this point, you can also give them an idea of what you might expect from them down the line (e.g. a reference check or a skills test) so they can prepare. During an interview, be open to any questions, and give them a sense of when you expect the role to start.
By being as proactive as you can with your communication, you'll be able to anticipate your candidates' needs and avoid them spending too much time trying to find an answer on their own.
4. Personalize the process where you can
If you're a recruiter at a large hospitality brand and running frequent high-volume hiring events, it's easy for candidates to just become numbers in a system. However, in today's hiring market, where most hospitality companies are vying for the same limited pool of talented candidates, you can't afford to treat candidates as if they're all the same.
Personalize their experience where you can. Use their name in communications, listen to their accommodation requests, answer their questions when they come in. These are all things that can improve their interactions with your employer brand and better position them to accept an offer if and when it comes.
Lastly, if a candidate doesn't get the job, try and give them actionable feedback (if you have the time). This will show that you're still invested in them and increase the likelihood that they'll come back once they've improved on that feedback and you have another opening.
5. Invite candidates to have a real conversation
Getting in front of a candidate for a virtual face-to-face conversation is a great way to stand out against your competitors. Today, so many recruitment teams rely entirely on automated processes — including asynchronous interviews — in order to save time, but that's sometimes at the detriment of the candidate experience.
Setting up interviews early on the process, where candidates get a chance to speak to someone real, showcase their communication skills, and ask any questions can be a great differentiator. That said, interviewers are often ghosted. Up to 46% of candidates don't show up for their interviews, and that can be a big time suck for recruiters. On-demand video interview software is one way that teams are mitigating this concern, as it lets recruiters schedule interviews quickly or meet qualified candidates at virtual hiring events. This means a candidate has a higher chance of talking to a recruiter and get a better sense of the company they're applying to.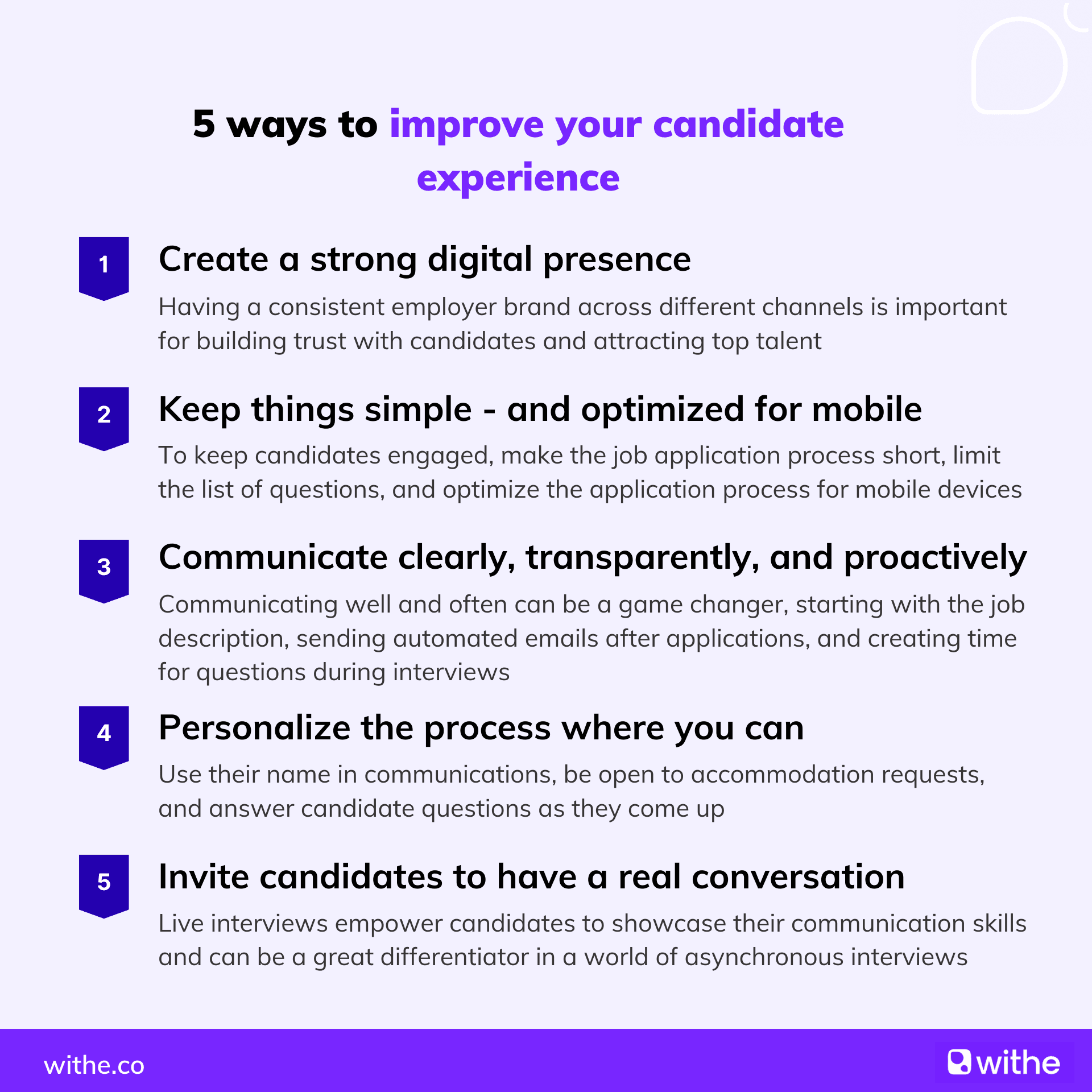 Happier candidates lead to happier employees
Improving the candidate experience will have a number of benefits for your business. For starters, it will ensure that your new hires are engaged from the start and willing to contribute to their roles. In addition, a better candidate experience can also help your recruitment team improve their performance against key metrics like time to fill and the offer acceptance rate. Better performance in these areas reduces the time burden and cost of recruitment. All in all, a better candidate experience spells a win-win scenario for candidates and employers alike.
At Withe, we're helping high-volume recruiters in the hospitality industry improve the candidate experience with our on-demand video interview software. Learn how on our home page.