A positive candidate experience has become a core differentiating factor for recruiters. In fact, if candidates don't have a great experience while they're in the hiring process, they tend to take that as an indicator of what the employee experience might be and look to other opportunities. In a time where unemployment is at a record high and the talent market is highly competitive, companies can't afford to not improve their candidate experiences.
In this piece, we're taking a closer look at what the candidate experience is, why it's important, and sharing 10 things you can do to make it better.
What is the candidate experience?
Maya Angelou once said, "When people show you who they are, believe them the first time." A lot of candidates use this philosophy when applying for jobs. If they don't have a positive experience in the application and interview process, why should they believe that they're going to have a good experience on the job?
When we talk about candidate experience, we mean anything that a candidate goes through and feels during the hiring process. Today, it's an important factor in how candidates decide to accept a role or not, and it shapes how they view the employer. As such, it's a key element that recruiters need to keep top of mind.
Why is the candidate experience important?
As mentioned above, the candidate experience plays an important role in helping candidates decide whether they want to work for a company or not. As such, in a time where candidates have more offers than usual due to low unemployment rates and other macro factors in the recruitment space, not having a positive candidate experience can get in the way of companies hiring high-quality employees. This can be particularly impactful for employers that run high-volume hiring initiatives, like those in the hospitality sector.
The candidate experience can also influence other elements including a company's reputation as an employer, the potential that a candidate will apply for another role down the line, and the chance that candidates will recommend a company to other potential candidates. On the flip side, a positive candidate experience can help increase retention, grow the likelihood of referrals, and even increase your offer acceptance rate.
Withe helps recruiters improve the candidate experience with on-demand video interview software
10 ways to improve the candidate experience
While there is no one way to improve the candidate experience, the following ten steps can be used in tandem to make the candidate journey more enjoyable and effective.
1. Have a consistent employer brand
This may sound counterintuitive, but your employer branding can be key to setting a great first impression when a candidate is researching your company or one of your roles. Recruiting teams have the opportunity to create an employer brand that includes their values, mission, messaging pillars, and the key reasons employees want to work at their company. These elements should then be used consistently across social media channels, job boards, communications, and a careers website. Consistency is key: it helps build trust and creates a seamless experience for candidates as they engage with your team.
While there will be a lot of work up front to get this right, the return on investment in terms of the candidate experience can be massive.
2. Streamline the recruitment process
If it's easier for your team to think on an operational level, one way you can improve the candidate experience is by taking a closer look at the recruitment process as a whole and how it's performing. What is your average time to hire or time to fill? How much time are you spending between stages? In other words, how efficient is your hiring process? Taking the time to understand where you might be lagging or underperforming — and creating a plan to address those gaps — can actually go a long way to creating a more positive candidate experience.
3. Write clear job descriptions
Your job descriptions are another place where you can build positive first impressions. The best thing you can do here is share details about the job in easy-to-understand terms and proactively answer any questions candidates may have. Here are some things to keep in mind as you write your job descriptions:
Keep the language simple
Don't rely on cliche descriptions
Only list the requirements that are must haves
Make sure the structure has a logical flow with the most important information up front
Share details about the company
Be transparent about the employment details
Disclosing the salary information for the role can also help applicants make informed decisions. Plus, in some regions, there are existing or upcoming laws that mandate sharing salary, so it's worth doing regardless.
4. Make your application process seamless
If you want to improve your candidate experience, one of the quickest things you can do is ensure that the application process is easy to navigate. This involves making sure your application system is easy to get to — whether that's from your careers page or from the job posting itself — having clear instructions, using simple and short application forms that are mobile friendly, and only asking for the information you actually need.
Note: If you can, don't make candidates sign into a careers site to apply to a role. No one needs another password to remember.
5. Get in front of your candidates early
The human attention span is getting shorter and shorter, and the same is true in the recruitment process. To keep candidates engaged, recruiters need to use every chance they can get to build interest in their employer brand and roles, proactively answer questions, and build personal relationships. Having an early face-to-face conversation can be a great way to do this, as it immediately puts a face to the company and builds a tangible connection for the candidate.
At Withe, we've found this is particularly important for high-volume hiring initiatives in highly competitive talent markets. Recruiting teams that do this well use on-demand video interview software that helps them vastly reduce the time to interview — and to hire.
6. Communicate clearly and often
A positive candidate experience can be significantly hindered if candidates are left waiting for an update from their recruiter. Instead, recruiters should be able to get back to candidates promptly — be it with good or bad news. This shows that you value your candidate's time, and that you're aware that they have other things going on in their lives including school, an existing job, or other application processes.
Communication doesn't just need to be timely to improve the candidate experience, it also has to be clear. Candidates should never be left scratching their head with more questions than they had before when they receive a message from their recruiter. If they do send questions (or thank you notes), make sure to respond so that you can keep building the relationship with the candidate.
Another tip: Where possible, use the email of an actual human recruiter for your comms, rather than a generic recruiting@company.ca address. This will make the experience more personable, especially if you're communicating a rejection.
7. Set clear expectations
As part of a clear approach to communication, recruiters should also set clear expectations throughout the candidate journey. As a candidate progresses through the hiring process, they should have a thorough understanding of what is required of them and what the next step is, and there should be no surprises along the way. This expectation setting can happen as early as the job posting, where recruiters can include information around how candidates will be evaluated. As a candidate goes through each stage, they should be immediately (or as close to immediately as possible) be given information about what to expect next.
8. Make the interview process seamless
Having a streamlined interview process will also help improve the candidate experience. There are a lot of factors to consider here. For starters, candidates should have a simple and clear way to identify any accommodations they might need (e.g. for improved accessibility). If candidates feel like they have to advocate for themselves during the hiring journey, they may take that as a signal of how inclusive (or not) an organization is.
Other elements that can help make interviews a positive candidate experience include:
Ease of scheduling
A timely reminder through their communication channel of choice
Sufficient preparation from the interviewees
Having all interviewees prepared with the same information so candidates don't have to rehash anything
The opportunity for candidates to ask questions of their own
9. Give feedback where appropriate
If you've gone through the job application process, you know that there's nothing more dissatisfying or unhelpful than getting a "No" without any explanation. A good rule to follow here is that the farther a candidate goes down the recruitment process, the more feedback they should have access to when they're turned down. This means that candidates that don't get past the first stage could get a templated email saying that they didn't meet specific criteria, for example, and that those who are in the final round could get a couple of paragraphs of input and recommendations, if they ask for it. This way, candidates will leave the process having learned something, and they may be open to applying for another role down the line.
10. Ask for feedback, too
There's always going to be room to improve your candidate experience, and the best way to know what areas might need optimizing is to ask your candidates for their perspectives. This could take the form of a couple of questions at the end of the application form, or a longer survey once a successful candidate has accepted the job offer. Use this input to inform any regular reviews of your recruitment process.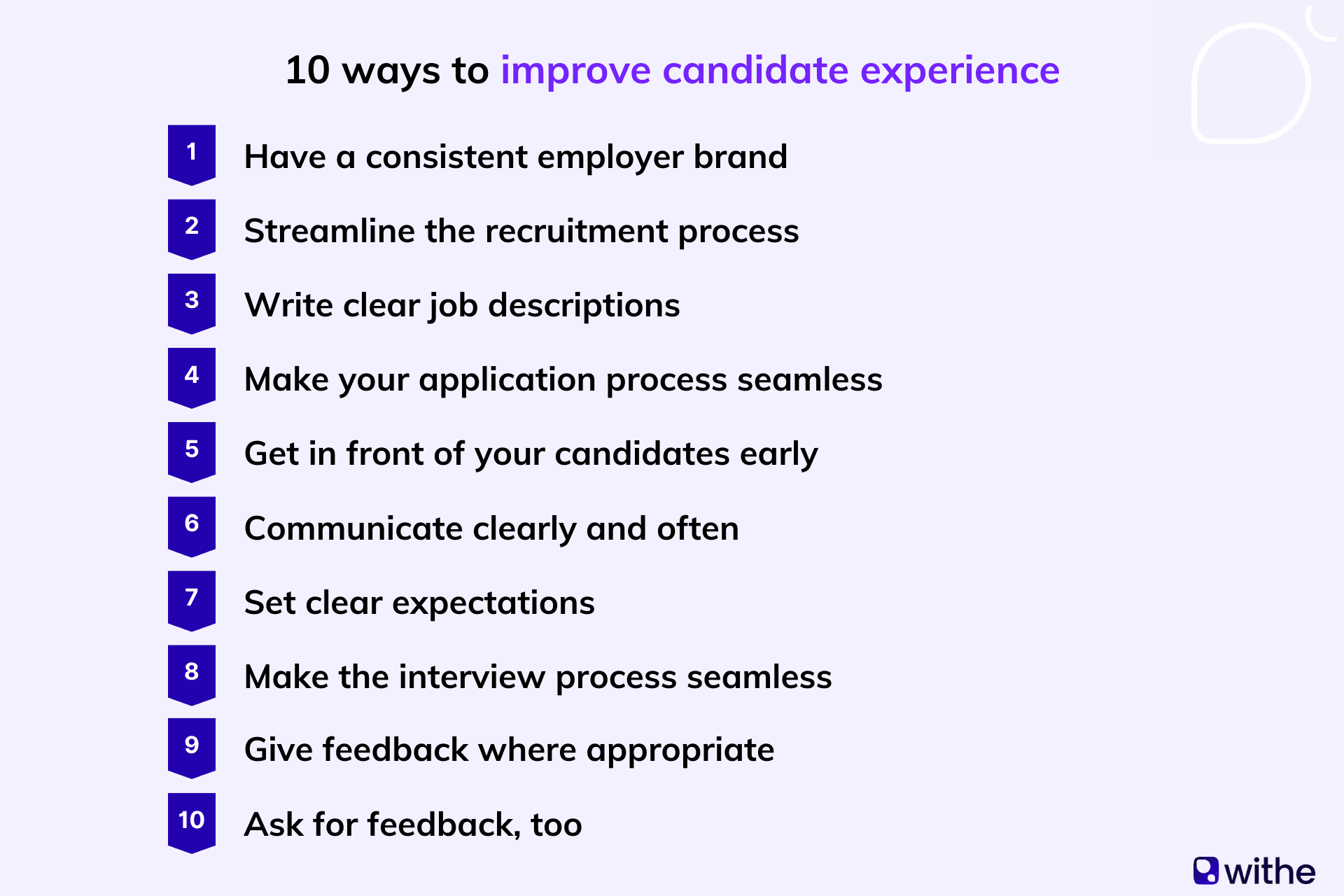 There's no silver bullet for the candidate experience
For teams that are looking to improve their candidate experience, it's important to acknowledge that this isn't a shift that's going to happen overnight. It will require making adjustments throughout the candidate journey, reviewing performance and gathering feedback, and then using that information to create even more positive candidate experiences. It's an ongoing journey, but one that can only lead to increased maturity and success for your recruiting team.
At Withe, we're helping recruiters improve the candidate experience with on-demand video interview software. Learn more about it on our homepage.