For many recruiting teams today, efficiency is the name of the game. If you can't get in front of high-quality candidates and move them through the hiring process quickly, then you risk losing out to competitors that are moving faster.
Today's hiring environment is tricky, the available talent is limited, but those that are searching for jobs have high expectations for recruiters, which include a seamless and rapid candidate journey. Not only that, but the best candidates are only on the market for an average of 10 days. For recruiters to succeed, they need to prioritize efficiency throughout the hiring process.
In practice, this means looking at each individual hiring step — from job posting to interviews and offers — and removing any unnecessary barriers that are getting in the way of efficiency. It also means taking a closer look at the foundational tools and systems that enable the whole hiring process, and ensuring that they are setting your team up for success.
Why hiring efficiency matters
Beyond improving your chances of hiring the right people for each role, an efficient hiring process can provide a number of benefits. These include:
Saving time and money. With an efficient hiring process, your team can spend less time researching, screening, and interviewing candidates. Plus, they're less likely to spend time waiting for no-shows. Your team can also save money that would otherwise be spent on marketing unfilled roles, leveraging expensive job boards, or hiring recruiting agencies for support.
Enhancing the candidate experience. A streamlined hiring process that leverages digital tooling and proactively answers candidate questions is bound to improve the candidate experience. This has the added benefit of enhancing your employer brand's reputation, thus encouraging more people to apply to your roles.
Improving key performance metrics. Today's recruiting teams are held accountable with a series of performance indicators, including time to fill, time to hire, and the offer acceptance rate. Focusing on hiring efficiency can simultaneously optimize a team's performance against these metrics, making recruiting a more cost-effective part of the business.
Each of these benefits are important on their own, but as a collective, they are key in driving success within your recruiting team. In addition, they allow for a culture of continuous improvement within the organization.
5 ways you can introduce efficiency into your hiring process
Now that we understand the benefits of hiring efficiency, here are five things your team can do to optimize your processes.
1. Keep your talent pipeline full — and diverse
A lot of recruiting happens when there's a specific need to fill a role (or many roles), but you shouldn't limit your efforts to just-in-time hiring. Building a pipeline of talent that's interested in your brand and the type of work you do is a great way to reduce the time spent finding the right fit. By dipping into an existing talent pool, you save your team a lot of time usually spent vetting a candidate.
Some ways you can add to this talent pipeline include:
Building a referral program for employees and third-party partners
Saving resumes of candidates that were a close second or third for a role you filled
Keeping an open application on your site for people interested in your brand
This type of candidate pool can also act as a litmus test for the diversity of your potential hires. If your brand is only attracting people in a certain demographic, then there might be things that need to change in your messaging and job descriptions. Leveraging learnings from the pipeline can therefore increase your hiring efficiency down the line.
2. Introduce automation where it makes sense
AI and automation is the topic of the hour, and while it might feel like a buzzword, there are use cases and applications for automation that can drive efficiency in the hiring process. Teams that are using automation effectively are doing things such as:
Incorporating automated integrations into your ATS that facilitate candidate tracking and engagement
Setting up an automated communication flow for candidates via the communication channel of their choice
Leveraging resume parsers that use keywords and Boolean strings to find relevant candidates
Remember: there's an important balance to strike when you introduce automation. Making a process faster is good, but it shouldn't come at the cost of the candidate experience.
3. Focus on the candidate experience
Today, providing a great candidate experience is more important than ever — and this needs to be a focus at every step of the candidate journey. While the link between experience and efficiency might not be immediately obvious, there is a strong correlation. If your candidates feel good about the hiring experience, they're more likely to not drop off and ultimately accept your offer down the line.
Some elements that can help improve the candidate experience include, but aren't limited to:
Marketing to them effectively on the channels of their choice
Writing clear, transparent job descriptions that have as much information as possible up front
Communicating clearly and often
Getting in front of candidates quickly, with a face-to-face conversation, to start building a relationship early
Answering any questions the candidate might have proactively
Spending less time gathering feedback at each stage of the process
Providing feedback when a candidate is rejected
4. Leverage the right technology
As a market, recruitment tech has grown in leaps and bounds in the last few years. In fact, the global recruitment software market is due to hit $3.85 billion by 2028, up from $2.55 billion in 2021. To us, this speaks to the increased focus on hiring efficiency across industries.
Some technologies that are designed as hiring efficiency solutions include:
On-demand video interview software that empowers recruiters to get in front of candidates faster.
Automated job posting tools that post jobs across different job boards.
Email marketing software that enables recruiters to send the right communication to the right candidate at the right time.
Communication hubs that centralize all points of contact with a given candidate, allowing for collaboration.
With the right tools to hand, recruiters can focus more on the human element of recruiting, building strong relationships with candidates and helping them find roles that really align with what they're looking for.
5. Partner with professional communities
Whether your business is in the tech space or in the hospitality sector, there may be opportunities to partner with third-party professional organizations that act as talent pools. These communities may be strictly industry-specific, or may have a focus on increasing diversity in the workplace. For instance, Toast, is a women's collective partnering with businesses in tech to place talented women in the right roles.
For a recruitment team looking to fill roles quickly, a community like this one can be beneficial as it can pre-vet candidates for you, while also positioning your brand as a trusted employer.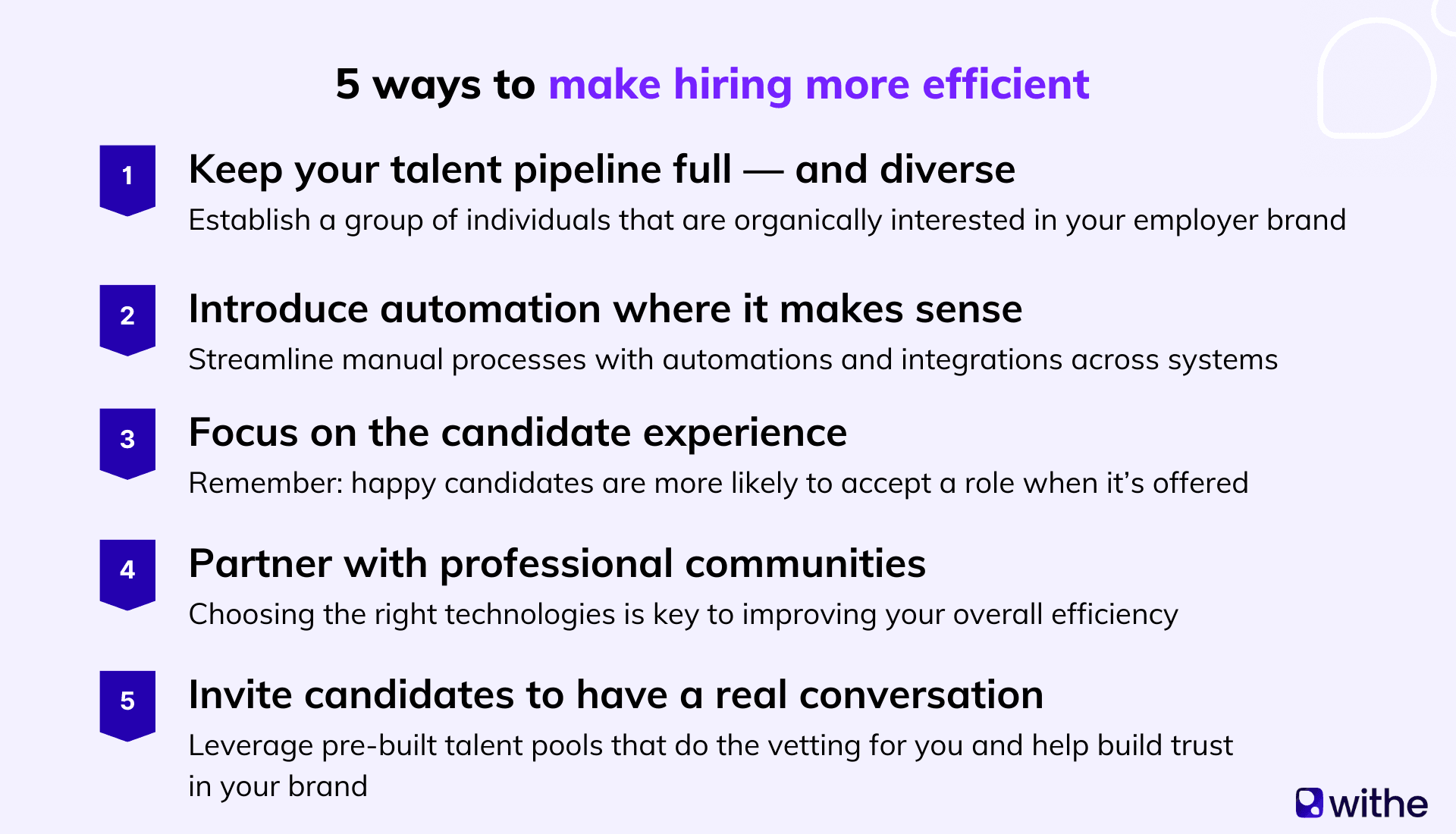 The path to efficiency is clear
Today's recruiters have more options than ever when it comes to making their processes more efficient. As your team implements these recommendations, have them take an iterative approach. You know your industry and your candidate pool best, and what might work for some recruiters won't necessarily work for your team.
---
Hiring efficiency FAQs
To provide a little more context on hiring efficiency, here are some frequently asked questions posed by recruiters:
Why is hiring efficiency important?
Hiring efficiency is important because it helps teams get in front of high-quality candidates faster, fill roles more quickly, save time and money, and enhance the candidate experience. It's also key for improving key metrics such as time to fill and the offer acceptance rate.
What are the issues with an inefficient hiring process?
An inefficient hiring process can lead to a number of challenges, including:
It takes more time and money to hire high-quality candidates
More candidates drop off during the hiring process
Candidates are more likely to ghost recruiters during interviews
Roles stay open for longer
The employer brand is negatively impacted
How do you measure hiring efficiency?
Hiring efficiency can be measured by looking at a comprehensive selection of time- and cost-related hiring metrics, including time to fill, time to hire, cost per hire, offer acceptance rate, and more. Taking this comprehensive approach can help you determine where the gaps might be as you determine how to improve efficiency for your team.
What makes an efficient interview process?
An interview process is efficient when your recruiters can get in front of a candidate quickly and use that time to determine whether it makes sense for the candidate to continue down the hiring path. Getting this right requires a seamless scheduling process, video interview software, and supporting automated technology that moves the candidate forward in the hiring process.
---
At Withe, we're helping high-volume recruiters improve hiring efficiency with our on-demand video interview software. Learn how on our home page.