Something volume recruiters know well is that the standard approach to hiring doesn't really work when you try to scale it massively. In fact, it can actually get in the way of meeting your targets.
When you're trying to fill multiple positions at the same time — sometimes hundreds or thousands — you can't afford to spend too much time evaluating candidates or getting back to potential hires. Volume recruiters operate in a very competitive market, which means they need to move fast and make decisions quickly if they want to get the best possible talent. As a result, volume hiring requires a different approach to regular recruitment, in more ways than one.
In this article, we're sharing some of the core differences between these two hiring strategies for teams that are starting out on their volume recruiting journey. But first, let's start with some definitions to make sure we're on the same page.
How do we define regular recruitment?
When we talk about regular recruitment or hiring, we mean the process of filling a single role with a single candidate. The standard approach here is to:
Publish a job posting
Screen resumes for a subset of qualified candidates
Conduct a screening interview
Run one or various interviews with hiring managers, peers, and/or senior leaders
Make an offer to the preferred candidate
Have them accept the offer
If the candidate doesn't accept the offer, then recruiters have to either extend the offer to the next most qualified candidate, if they're a fit, or run the whole process again. Depending on the seniority of the role, this process can take anywhere from weeks to months to finalize. This is partly because many of the steps are done manually, without any automation or technologies that encourage speed.
What is volume hiring?
Also known as high-volume recruiting or mass hiring, volume hiring is the process of hiring many employees within a short period of time. This is a process typically used by organizations that have seasonal hiring needs — like the tourism industry — or companies opening a new call center or location that needs staffing. These are also usually entry-level roles with a low barrier for entry, so the assessment process doesn't have to be as extensive as in some regular recruitment processes.
In a volume hiring process, recruitment teams will post multiple roles at the same time, with the goal of evaluating as many applicants as quickly as possible. Interviewing also happens en masse, with in-person or virtual hiring events where a group of recruiters meet with as many candidates as possible before then extending an offer.
Whereas some teams will handle this process in-house, others outsource these tasks to recruiting agencies or RPO providers that specialize in this form of hiring.
Withe

makes high volume hiring simple

with virtual hiring events and on-demand video interviews
5 ways volume hiring and regular recruitment are different
While the high-level differences between volume hiring and regular recruiting processes are fairly obvious, it's worth exploring how they influence the way recruiting teams do their work.
Recently, we talked to David FitzGerald, Founder & Principal Technical Recruiter at Starboard Recruitment, who shared some key insights regarding how volume recruiters should operate. "In high volume hiring there is an elevated need for structure and systems that allow the hiring team to work effectively, in synergy, and not sacrifice on candidate experience," he says. In other words, volume hiring teams need to find a balance between being efficient and ensuring candidates have an enjoyable experience — and that's not always easy to do.
When it comes to driving efficiency, FitzGerald recommends having robust tooling and processes in place to support your efforts: "The important pieces to high volume hiring are a strong scheduling system, solid sourcing and calibration of candidates entering the process, a systematic and unbiased way of evaluating candidates through the process, good communication between the hiring team, decisive action when someone is determined a good fit for a role, and providing a consistently positive candidate experience." Pretty simple, right?
While some of these elements — like removing bias from the evaluation process and ensuring solid communication between the hiring team — are also important in modern versions of regular recruiting, the rest are specific drivers for ensuring the success of volume hiring initiatives. To clarify what this looks like in practice, we're breaking down how these two approaches to hiring differ at each stage of the recruitment process.
Candidate sourcing
Regular recruitment:
A recruiter will work with a hiring manager to create a job posting, which may take a couple of rounds of feedback before it goes live. They then post the job description on one or many of the major job boards — depending where they're investing their recruitment budget — in the hopes that the right candidates come across them. Depending on the company, the recruiter might also go in search of potential candidates and invite them to have a conversation about the role, if they're interested.
Volume hiring:
Because volume hiring is a numbers game (and candidate drop off is one of the biggest challenges in the process), there's a lot of effort that needs to go into attracting the right candidate pool. Getting this right requires having engaging, easy to digest job descriptions that appeal to your target audience, and an automated system to get them out the door. In this way, volume recruiters almost need to be marketers, leveraging their employer brand to capture the attention of qualified candidates, and using data to get their job descriptions in front of the right individuals.
Successful volume hiring teams will supplement their sourcing efforts with a referral program, a comprehensive talent pipeline, and by attending events at nearby educational institutions. In addition, teams that use Withe have the opportunity to host their own virtual events to stand out from the crowd and reduce time to hire.
Application process
Regular recruitment:
Candidates looking for jobs that typically require a regular recruitment process understand that they have to spend time filling out applications. There's a reason people say that looking for a new role can feel like a full-time job. A standard application process has a form where the candidate provides their personal information and employment history, the opportunity to write a cover letter expressing their interest, and, in some cases, the opportunity to answer some formulaic questions.
Volume hiring:
As we mentioned above, volume hiring is typically used for low- to mid-complexity jobs that range from entry-level to experienced. That means you don't need a robust application form that gives you a long employment history, nor do you need an extensive cover letter. Because volume hiring requires speed, the best thing you can do is lower the barriers to entry in the application process. You can do this by making the application short and sweet, ensuring it's optimized for mobile, and finding ways to streamline the qualification process so that you can quickly identify quality candidates and move them through to an interview with on-demand video software.
Candidate assessment
Regular recruitment:
Once they have enough candidates to choose from, regular recruiters tend to manually parse through resumes and cover letters, checking for education details, relevant work experience, and signs for cultural fit. They then use that information to make a short list of candidates that should move on to conduct some form of skills testing, if required, and then the interview stage.
Volume hiring:
In volume hiring, this manual process doesn't work. Instead, teams use automated tools to review applications, picking out keywords that might indicate a candidate is a good fit for the role. Then, depending on the role, some volume hiring teams will leverage standard assessments — such as personality questionnaires or situational judgment tests — to rank candidates. This approach reduces the potential for bias while also speeding up the process.
Interviewing
Regular recruitment:
In a regular recruitment process, candidates will often have to go through multiple rounds of interviews. Each conversation has to be carefully scheduled at a time that works for everyone, and that can sometimes create big time gaps between conversations. These interviews are designed to understand the candidate better, assess culture fit, and give candidates the opportunity to ask questions.
Volume hiring:
Interviewing in volume hiring needs to be quick and scalable, and you need an automated system to help schedule your interactions with candidates.
FitzGerald shared his thoughts on this too. "One of the most successful strategies that I have seen when companies are going through a high-volume hiring phase is virtual hiring events," he says. "Hiring teams will pick a date to focus on interviewing, allowing for efficient scheduling for all involved. Feedback is shared in a scorecard system and the best candidates are moved to a following hiring event until the process is completed." These types of events are ideal for enabling the interview process to happen at scale.
With no-shows being a big risk for volume hirers, on-demand video software can also help here. It ensures recruiters speak to candidates almost immediately, without having to schedule a call in the future.
Candidate selection
Regular recruitment:
Recruiters typically take some time between the interview and making an offer to a) speak with hiring managers and peers to make a decision, b) assess the candidate against other finalists, and c) call references and conduct background checks. These steps are taken to reduce the potential risk of making a bad hire, which can ultimately be costly down the line.
Volume hiring:
Speed is the name of the game in volume hiring. As such, volume recruiters have typically made their hiring decisions by the end of the interview stage. As FitzGerald suggests, some teams use a scorecard system so that at the end of their hiring event, they have their top list of candidates they can send an offer out to almost immediately. This means they can stay ahead of their competition and not lose candidates by taking too long to decide.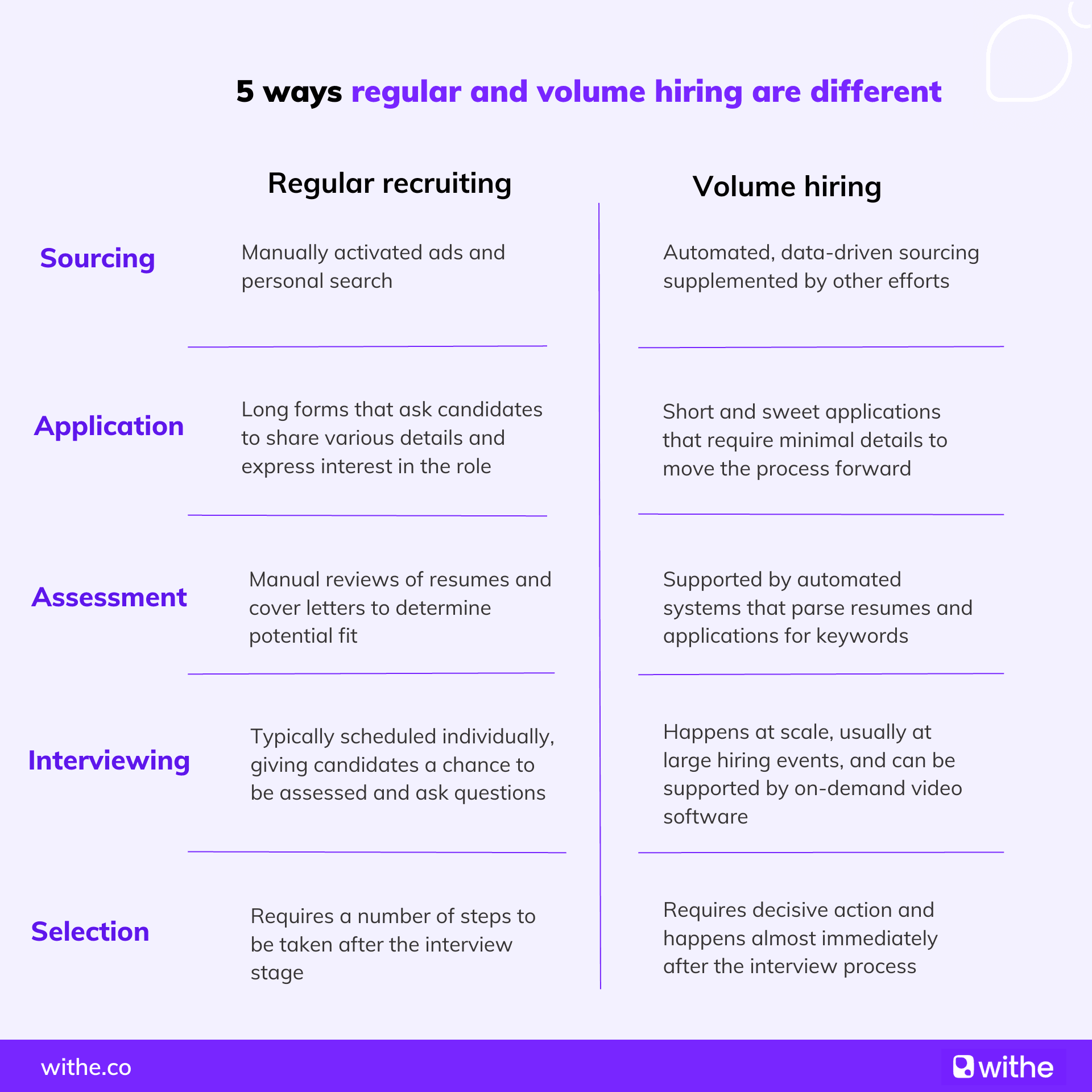 The need to look forward
"Whether companies are hiring a few roles or many roles, there should always be a structure and system that can be iterated and improved upon," says FitzGerland. "The earlier a company can establish these systems, the more prepared they will be for when hiring volumes increase."
Regardless of the type of hiring your team is doing, there's significant value in future-proofing your processes. Your executives likely have growth plans in place for the business, and they will rely on you and your team to execute on those when the time comes. As such, making your team agile and building a culture of continuous improvement is only going to set you up for success.
Want to do more to improve your volume hiring efforts? We're helping teams reduce their time to interview by 82%. Book a demo to learn how.