One of the top challenges with high-volume hiring is that it can hinder a recruitment team's ability to deliver positive candidate experiences. With so many roles to fill at once — and only so much time to fill them — it's easy for candidates to feel like numbers instead of people. Plus, without the right tools or processes, high-volume hiring processes can be inefficient, clunky, and impersonal, all things that can negatively impact a candidate's interest in an employer.
Today, volume recruiters experience massive drop off rates throughout the hiring process. Candidates are steered away by long application processes, extensive intervals between hiring stages, a lack of clear and ongoing communication, and competing job offers. With growing competition for limited talent pools, volume hirers need to prioritize the candidate experience if they want to keep high-quality candidates engaged and eager to accept an offer.
To help your team get started, we're sharing five things you can do to improve the candidate experience in high volume hiring initiatives.
Withe with virtual hiring events and on-demand video interviews
1. Be clear and transparent — always
Candidates should never feel like they don't know enough about your brand, the role they're applying for, or where they are in the hiring process. Any confusion can make it hard to keep your candidates engaged and interested in your company as an employer. To mitigate this, use any communication channel as an opportunity to proactively clarify things and set expectations.
For instance, your job description should clearly articulate the job requirements, a salary range, and a list of benefits. You can also include a blurb on what the application and hiring process looks like, so they know what to expect. As another example, you can use your careers page to outline your employer values and provide a glimpse into the corporate culture. In addition, you can craft any automated messages to answer questions candidates typically have at each stage of the hiring journey.
Basically, take advantage of any opportunity to proactively answer questions candidates might have. And remember, if you feel like you're stating the obvious or over-explaining things, you probably aren't.
2. Focus on agility
A slow and complex volume hiring process doesn't just hinder your team's performance, it also gets in the way of a positive candidate experience. Candidates are unlikely to fill out a long application form — in fact, 60% of applicants won't finish filling out the form if they find it too long or difficult to navigate. At the same time, 75% of people use their mobile phones as part of their job search. As such, having an application that's simple and optimized for mobile is far more likely to meet candidate needs.
In the same way, candidates shouldn't have to wait extensive amounts of time between communications or stages of the hiring process. If a candidate is waiting, it's easier for them to become disengaged or pursue another opportunity — and that'll leave you with zero return on the time you spent interacting with them. Take the time to revise and optimize your process so that it's as quick and seamless as possible for the candidate. And if you ever anticipate a gap or lag, be proactive by communicating with the candidate and resetting expectations.
3. Tailor the candidate's experience wherever possible
While automation is a core mechanism for high-volume recruiters to operate faster and more efficiently, relying too heavily on it can put the candidate experience at risk. If you treat candidates like they're all the same and shepherd them through the same automated process, it'll be easy for them to feel like they're just another sheep.
The alternative is to take every possible opportunity to personalize the experience, while also balancing the need for efficiency. In practice, this can be as small as ensuring that your automated communications are set up to pull in personal details such as their name. For individuals in your talent pipeline, you can also send location-based notices any time your company hosts a hiring event in their region.
Another important step here is ensuring that you have adequate mechanisms for candidates to request accommodations for a disability or chronic illness. These opportunities should exist at each stage — not everyone is comfortable disclosing disabilities early on in the hiring process — and should be acknowledged and met swiftly.
4. Don't forget the value of face-to-face interviews
When it comes to interviews, it's easy to assume that asynchronous recordings are the best approach for high-volume recruitment. At the end of the day, this approach doesn't rely on scheduling, it lets recruiters watch recordings on their own time, and no-shows aren't a time suck for the team. However, it robs candidates from the opportunity to have a real-time conversation with someone who works at the company they're interested in.
In a time where candidates are making informed and thoughtful decisions about where they work, offering a face-to-face interview can do a lot to encourage them to take a role at your company. One way to do this without wasting time is by leveraging on-demand video interviews for your volume hiring roles. This lets recruiters schedule interviews quickly or meet qualified candidates at virtual hiring events, ensuring that high quality candidates can put their best selves forward while also getting the information they need.
5. Foster consistency
Think about your customer-facing brand. Your brand and marketing teams have spent countless hours ensuring that your messaging, voice, and tone is consistent across every single interaction with your customers. Why? Because consistency inspires trust and loyalty. The same is true for your candidates.
Consider the candidate experience beyond the hiring process and take the time to build an employer brand that reflects your corporate culture. This will empower your hiring team with a consistent set of messaging pillars and brand elements that they can use across various channels.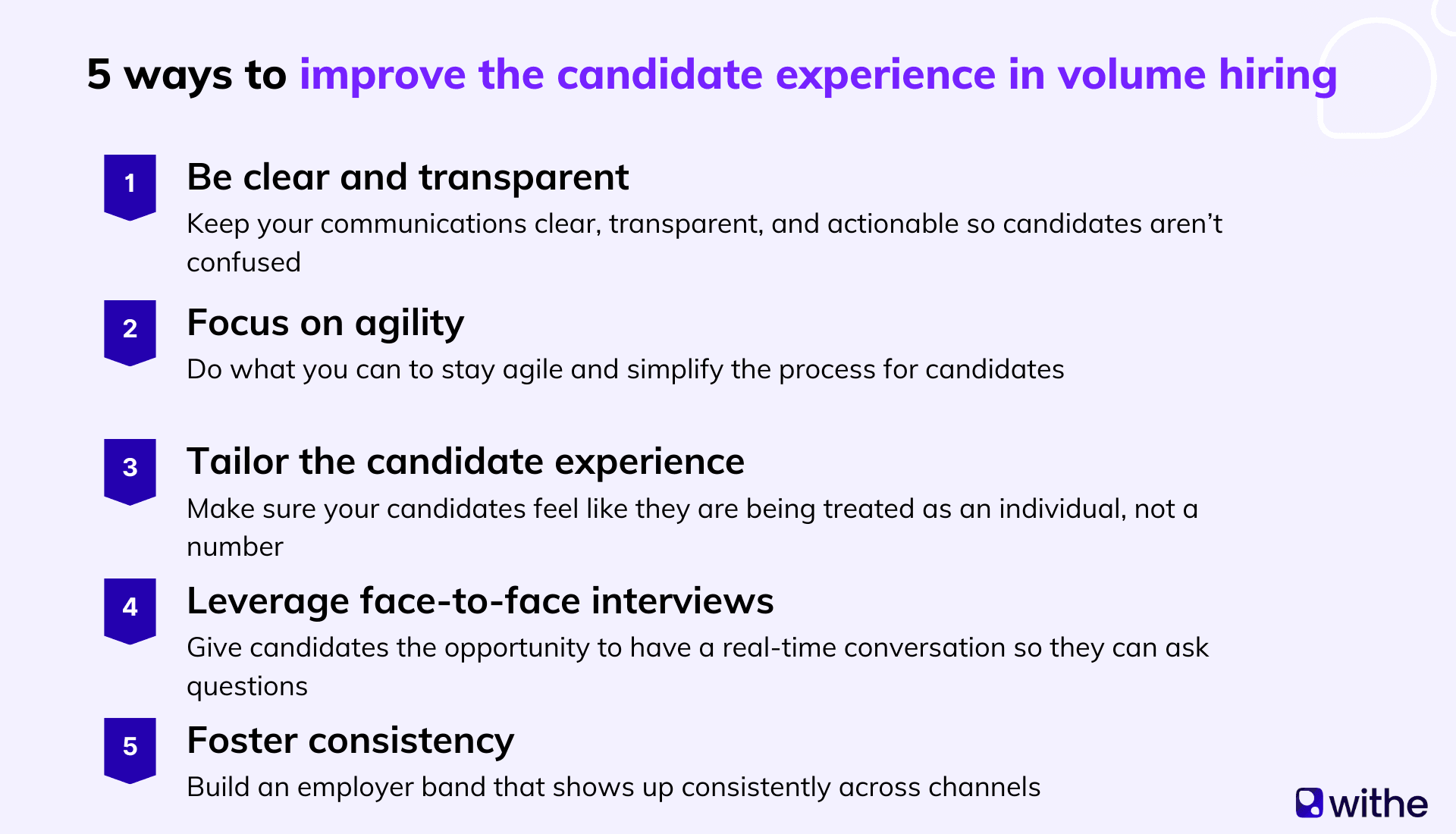 Optimizing volume hiring for candidates
Volume recruiters know that the candidate experience is one of the hardest things to get right — but it doesn't have to be. By leveraging the right tools, enhancing the employer brand, and personalizing the experience wherever possible, high-volume recruiters can consistently deliver better experiences for their candidates.
At Withe, we're helping high-volume recruiters deliver better candidate experiences with our on-demand video interview software. Learn how on our home page.