Today's talent landscape is increasingly competitive. More and more, recruiters are having to refine and optimize their efforts so that they can reach and hire high-quality talent faster. Otherwise, they risk losing out to peers in the industry that have invested time and money into streamlining their hiring processes and improving the candidate experience.
One core way that recruiting teams can enhance their chances of success is by focusing on their talent acquisition strategies. By creating a customized and effective approach to talent acquisition, teams can be much more targeted in their efforts and improve their overall performance. In this article, we're taking a closer look at what talent acquisition is and how it differs from recruitment — and we're also sharing eight things you can do to make the most of this capability.
What is talent acquisition?
Talent acquisition is the overarching approach companies take to identifying, attracting, evaluating, hiring, and retaining talent. Usually run by a company's human resources department, a talent acquisition strategy sets a holistic approach for hiring and retaining talent, and is aligned with the business's long-term goals, roadmap, and objectives.
How is talent acquisition different from recruitment?
Whereas recruitment is usually focused on the tactical process of finding candidates to fill specific goals, talent acquisition takes a broader approach. Aligned with an organization's goals and future plans, a talent acquisition strategy can sometimes take a more proactive approach in both hiring and retaining employees. In other words, talent acquisition managers may establish strategies for recruiting top talent that are aligned to broader organizational goals — and will also implement retention strategies aimed at keeping high-quality employees that will help the business meet its objectives.
Within this proactive approach, a talent acquisition strategy might also focus on building a strong talent pipeline that includes top talent that could fill future vacancies. As such, a strong talent acquisition strategy relies on having a recognizable employer brand, building trust with candidates, and creating a referral program that existing employees are willing to participate in.
At Withe, we're helping recruiting teams be more effective in their talent acquisition efforts with hiring event platform.
8 effective talent acquisition strategies
In today's hiring landscape, companies can't afford to be reactive with their talent acquisition strategy. Wherever they can, teams need to future-proof their approach to attracting and retaining top talent so that they can better set their business up for success. Here are eight talent acquisition strategies that can help your team get to the next level.
1. Build a recognizable employer brand
Your company has likely done a lot of work to build a trusted brand for your customers. At the end of the day, you want your customers to feel heard, understood, and that they can rely on you. The same is true for your employees and candidates.
Today's job hunters spend a lot of time researching an employer brand. They want to know what your values are, what the employee experience is like, and what the growth and development opportunities are. Building an externally facing employer brand can help you by not only establishing a visual identity, it can also proactively answer these questions for candidates interested in your company. It doesn't (and shouldn't) stop there, however. Once candidates join your workforce, they should be able to recognize and experience the traits they learned about the brand while on the job. Otherwise, you risk losing them to turnover.
2. Optimize the candidate experience
Whether you're running high-volume hiring events or filling a singular role, it's vital to have a positive candidate experience. With 60% of candidates dropping off at the application stage and another 43% falling off early in the hiring process because they've received an offer or had a poor candidate experience, recruiters can't afford to not refine each of the steps a candidate takes in the hiring process.
As you review your candidate journey, put yourself in their shoes. How much time are you asking them to wait between steps? Are you giving them all the information they need early and often? Are your communications timely? Does the candidate feel seen and supported throughout the process? These are all things that can help you optimize the experience.
3. Show proof of your culture
It's easy to say that your company has a great culture, but candidates want to see proof, where possible. You can do this in a number of ways:
Apply for employer recognition awards that are based on employee feedback
Publish your employee net promoter score
Share your diversity and inclusion strategy
Showcase employee stories
Have a section of your career site dedicated to employee benefits (and make sure it's up to date)
4. Build a talent pipeline
A talent acquisition strategy needs to be proactive. Building a talent pipeline that's informed by your business's long-term goals can help with that. If you have access to talent that's already interested in your brand and the type of work you do, you can reduce the time spent finding the right fit. Plus, by dipping into an existing talent pool, you save your team a lot of time usually spent vetting a candidate.
Good ways to keep your talent pipeline full is by saving resumes of candidates that were a close second or third for a role you filled, keeping an open application on your site for people interested in your brand, and having a referral program within your organization (more on that below).
5. Incentivize referrals from your employees
Once you've built a strong employer brand and culture, your employees are bound to be your strongest ambassadors. The added bonus? They know your company inside and out, so they'll have a great sense of the type of talent that could thrive in your organization.
With a referral program, you can have current employees refer their friends and peers even when there isn't a role available. This is especially effective if you include a referral bonus or perk in your program, so the employee benefits if their recommended candidate is ever hired.
6. Focus on diversity
Another fantastic way to increase your talent pipeline and candidate pool is by making a concerted effort to attract more diverse candidates. Beyond being the right thing to do, there's a statistical benefit to actively opening the door to marginalized communities, be they people of colour or disabled candidates. Take a look at your hiring process and ask yourself these questions:
Who does your recruiting efforts typically attract?
Is the language in your job postings or career site alienating in any way?
Are there more accommodations you can introduce into the process?
Have you had a diversity consultant review your approach to hiring?
Addressing these questions could ultimately help make your talent acquisition strategy more effective and inclusive.
7. Offer learning and development opportunities
As mentioned above, talent acquisition isn't just about hiring, it's also about retaining your existing employees. Giving employees access to learning and development opportunities — whether they're run in house or offered externally — can vastly improve their interest in remaining at the organization. In addition, if you pair these learning opportunities with opportunities for career progression, employees can feel more in control of their destiny within the company.
This not only builds trust between employees and the employer brand, it also makes employees more likely to recommend the company to others down the line.
8. Introduce the right recruitment technologies
While being proactive is a huge part of running a successful talent acquisition strategy, speed and efficiency is also important. This is where having the right tools, technologies, and automations can help. Choose the platforms and applications that will help you get in front of candidates faster, communicate seamlessly, track candidates, and simplify the screening process. And make sure these tools are integrated and can share data seamlessly so that your team can make data-driven decisions as it continues to deploy the talent acquisition strategy.
At the end of the day, these tools should help optimize the hiring process and the candidate experience, not hinder it.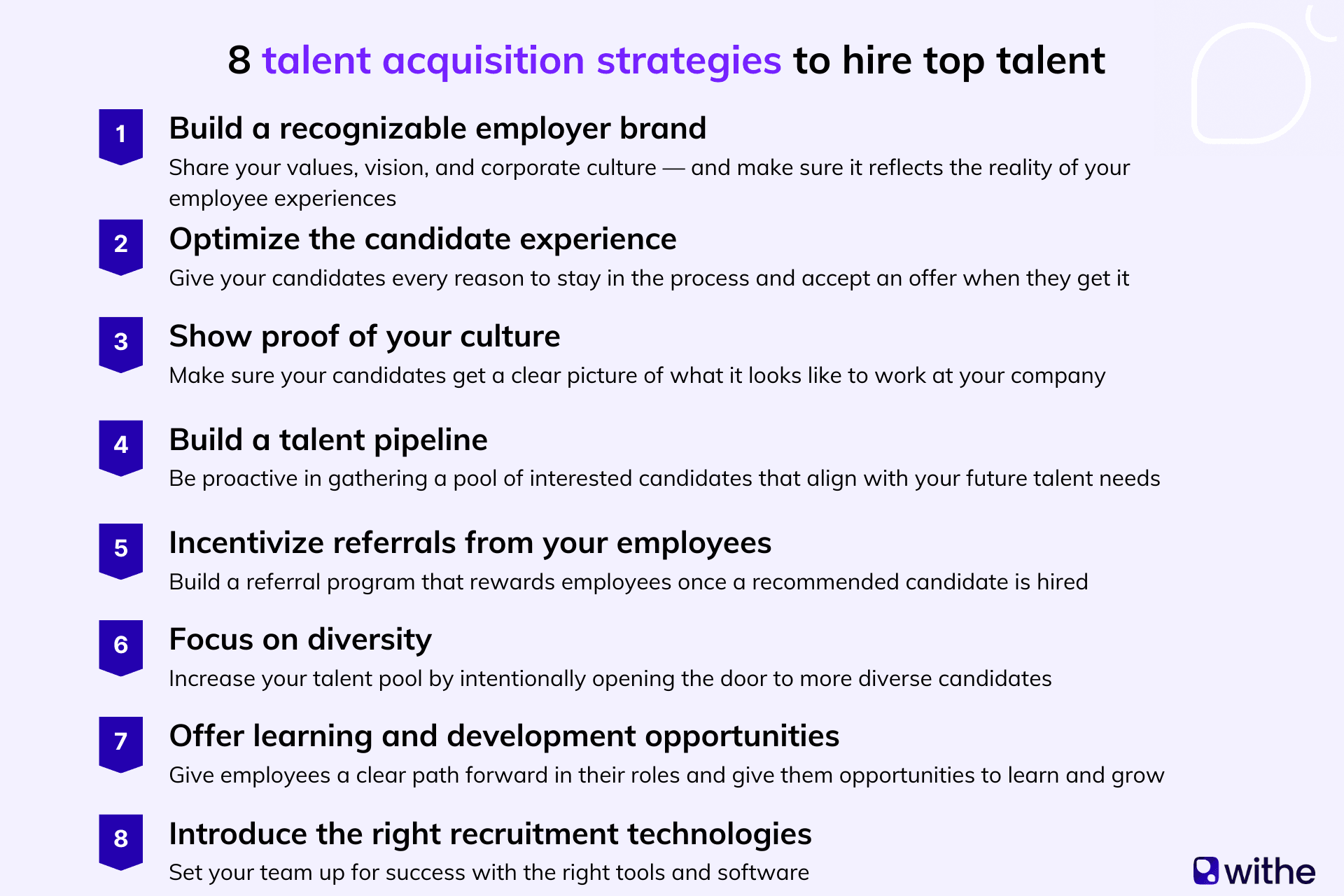 Take your talent acquisition to the next level
Today's recruiting teams have to juggle a lot, and it can sometimes be hard to see anything beyond the roles that needed to be filled yesterday and are still empty. That said, taking a step back and thinking about your broader talent acquisition strategy can ultimately help your team be more proactive in your hiring and retention efforts, therefore reducing the burden on the team in the long run.
At Withe, we're helping recruiting teams be more effective in their talent acquisition efforts with hiring event software. Learn more about it on our homepage.