The more we talk to talent leaders and hiring managers, the more we realize that the recruiting space is constantly evolving. It's exciting!
Whether they're responding to new technologies, shifts in the talent market, or changing candidate expectations, recruiters have to constantly account for these evolutions in their processes.
One of the biggest shifts recruiters have experienced in the last few years — prompted in large part by the pandemic and the proliferation of remote work experiences — is virtual recruiting. While many global corporations may have had a virtual hiring process prior to 2020, the last few years have seen this practice expand to businesses of all sizes and industries, and it's not going anywhere.
In this post, we'll explore what virtual recruiting is, its benefits, and some best practices for getting it right. If you read to the end, you'll also get a glimpse at how Withe helps teams run seamless virtual events.
What is virtual recruiting?
Virtual recruiting speaks to hiring processes that take place remotely. In a virtual recruiting process, recruiters and hiring managers rely on technology solutions such as virtual hiring event platforms, video interview software, AI-enabled chat bots, online assessments, and more. These tools are used to assess candidates remotely, and are ideally integrated with other core technologies such as the applicant tracking system (ATS).
While virtual recruiting has had a place in corporate settings for some time now, the last few years have seen it play an increasingly important role in volume hiring, seasonal hiring, and even campus recruitment. This is largely because virtual hiring is easier to execute at scale. In addition, modern virtual hiring tools are better able to track important data that facilitates decision making.
This has also prompted a shift in how recruiters run hybrid and in-person hiring events. Recruiters in these spaces now want to use some of the same technologies used in virtual hiring in order to better track candidates, enable collaboration, and introduce efficiencies.
5 benefits of virtual recruiting
Beyond helping to streamline the hiring process, virtual recruiting has a number of benefits for recruiters and candidates alike.
It expands the candidate pool by allowing recruiters to speak to applicants outside of their local region.
It makes the process more accessible by reducing physical barriers in the interview process and also making it easier to introduce accommodations such as captioning.
It helps to minimize bias by introducing a more consistent, repeatable approach into recruiting. With online assessments, structured video interviews, and surveys, recruiters are able to make decisions based on the available data versus how they feel about a candidate.
It reduces time to hire, especially when teams adopt technologies and automations that leverage data, send timely communications, and facilitate decision making.
It offers a better candidate experience as candidates get more flexibility in how they interact with recruiters. Plus, teams that spend time creating a virtual hiring ecosystem ensure that candidates have the information they need when they need it.
Withe's hiring event platform is helping recruiters run seamless and integrated virtual hiring events
3 strategies for improving your virtual recruiting process
Virtual hiring processes can look very different from one company to the next. This will often depend on the type of hiring a team needs to do, whether they are pairing it with in-person experiences, and how much they have invested in building their virtual recruiting experience.
Regardless of what your virtual hiring looks like, these are some best practices to keep in mind.
1. Create an integrated recruiting tech stack
Pick technologies that will help you meet your virtual hiring needs. These should be solutions that are designed to enhance your performance against key metrics and have a variety of useful features that you will actually use.
The solutions you choose for virtual hiring should also be able to speak to each other, seamlessly sharing data so that your team can make quick decisions and keep their preferred candidates engaged.
As a starting point, take a look at your existing tech stack and identify where your gaps might be. Do you have a hiring event platform that facilitates virtual hiring? Is your video interview software integrated with your ATS? Are there features you need that you don't have currently? This will help you determine where to go next.
2. Create a repeatable process
Today's recruiting teams are tasked with being more efficient than ever — but they can't do that if they don't have an easy-to-execute, repeatable process for hiring. Take the time to review your existing processes, see how they can be streamlined (your technology choices may play a role here), and establish steps that will empower your recruiters to do their job effectively while meeting your performance targets.
3. Focus on the candidate experience
The candidate experience is a crucial metric for how candidates make decisions. In fact, candidates are 38% more likely to accept a job if they are satisfied with the candidate experience. As such, you should build the virtual hiring process with the candidate in mind, ensuring they have the flexibility they need and that their needs — whether that be communication or opportunities for asking questions — are met proactively.
Another important element here is accessibility. Even though virtual hiring is inherently more accessible than most in-person hiring experiences, it's important to still give candidates the opportunity to ask for accommodations (e.g. captioning, more time to conduct an online assessment, etc.).
How Withe supports virtual recruiting events
The tenets of a successful virtual hiring process include speed, ease of execution, flexibility, and scalability. Designed with these tenets in mind, Withe's hiring event platform enables recruiting teams to run seamless virtual hiring events of all sizes.
Inside the Withe platform, recruiters can set up custom job postings for roles they have available. Here, they can include details such as the job description, salary, benefits, work arrangements, and more.
Once the job posting is ready, recruiters can set up virtual hiring events for this specific role. In the set up windows, they can:
Select their time zone, start time, and end time
Choose how long they want interviews to be
Set the maximum number of candidates per time slot (which will depend on the number of available recruiters and typical no-show rates)
Choose whether to request a resume
Assign hiring managers (for internal tracking and accountability purposes)
Share instructions for the candidate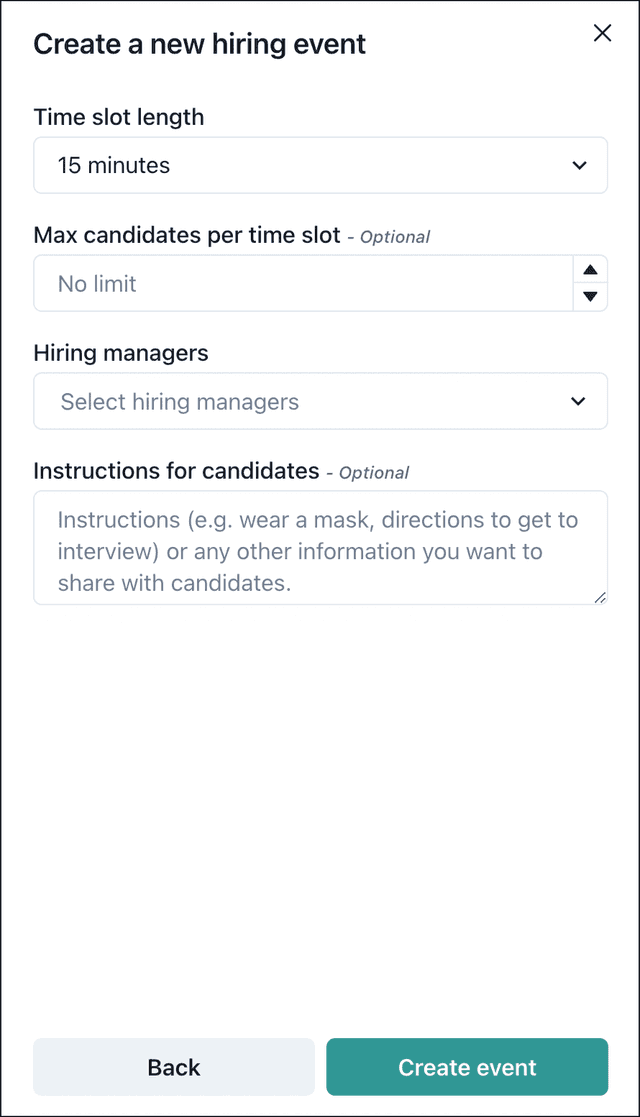 Once all the details are set, the recruiter can share the job posting as an external link, which will also have a hiring event registration window that candidates can sign up with directly. Here, candidates are able to choose a time slot and make specific accommodation requests.
As an added feature, Withe also supports recruiting teams by tracking where candidates come from so that they can get better insight into which candidate sourcing strategies are the most effective.
On the day of the hiring event, recruiters automatically have a roster of candidates to interview. They can then use Withe's video interview capabilities to conduct those interviews, write notes on the applicant, and determine whether the interview was successful or not.
In addition to scheduled interviews, Withe also enables teams to run on-demand video interviews during their virtual hiring events. This way, candidates can join a virtual hiring event almost immediately. Not only does this improve the candidate experience, it also increases the scope of potential candidates a recruiter can speak to during an event.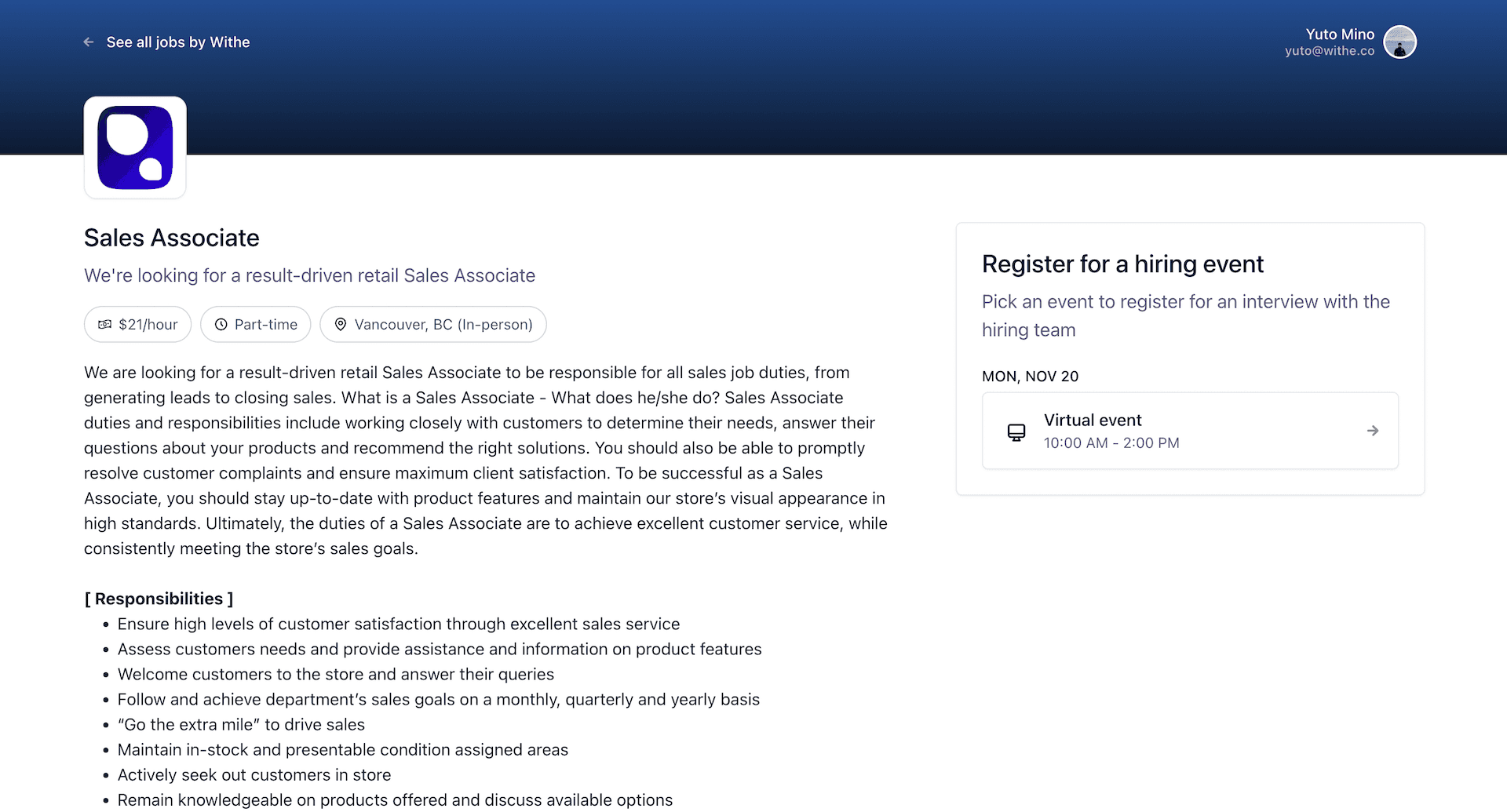 Recruiting continues to evolve
Today, modern virtual hiring experiences are shaping the potential for the recruitment space. The teams that do it best are most likely to delight their candidates while also streamlining the overall hiring process. As the recruiting process continues to change and evolve, we're excited to see how virtual hiring changes with it.
Withe's hiring event platform is helping recruiters run seamless and integrated virtual hiring events. Learn more about our product.